Hey hey, what a great election result last night. Labor not only won in a landslide, they exceeded the predictions. Poor old Zak Kirkup, the Liberal leader, lost his own seat and has quit politics. Labor won 53 of the 58 seats! The Libs only have two seats. Two! They no longer qualify for political party status, meaning they don't qualify for government funding as a party. The Nationals, with only four seats, are now the Opposition.
The Liberals only have themselves to blame. They have made absolutely stupid decisions and statements, including former leader Liza Harvey's backflipping on whether the border should be opened or kept closed, and (now former) leader Kirkup's concession of defeat six weeks before the election was held. Wow, what confidence in his own candidates.
This means Labor can go back and revisit things they couldn't in the first term, and one of those will be the reappointment of John McKechnie as the commissioner in the Crime and Corruption Commission (CCC). That should mean the exposure of the corruption material found on a laptop belonging to a former Liberal MP. That'll be interesting, to say the least.
In my own electorate, Butler, my local Labor candidate John Quigley, the Attorney General, was returned with ease. He beat the Liberal woman and my neighbour wasted her vote. Ha ha ha.
__________________________________________
The headline is a new word to me, struthious. At first I thought it was a made up word, slang, like "s'truth", but I looked it up and it's a genuine word from ornithology, meaning the class of flightless running birds like ostriches or cassowaries. But in this case the author meant ostrich-like, head-in-sand like, unwilling to face the truth.
She was referring to a woman friend in Queensland who was living on welfare of $560 per fortnight, but paying rent of $502 per fortnight, leaving her $58 per fortnight or $29 a week for everything else – food, petrol, electricity, gas. She sold everything, even her fridge, but was slowly starving because she couldn't afford to eat properly. This is not some third world country, this is Australia, Queensland. In this Liberal government's eyes, if she's poor, it's her own fault.
And in the words of Anne Ruston, the Minister for Women's Affairs in this filthy, corrupt, hard-line federal government, if we gave them more money, they'd just spend it on gambling, drinking and cigarettes. She is very hard line.
______________________________________________________
Our Gina's in there, notice. It's only a few years ago I saw she was listed at $8bn and I thought that was excessive. Now she's tripled it. I haven't noticed any charitable donations. What the hell does she do with all that money? She pays it to lawyers, I think, trying to keep it from her children.
______________________________________________________________
The idea of bottom mounted freezers in fridges is crazy and I wish I'd never bought mine. When the freezer's at the bottom, then every new thing you add just goes on top of what's in there already, making a pile. You can't see what's in there most of the time. When the freezer is on the top or at the side, you can stack things properly and see what you've got. I have no idea what's at the bottom of mine, so quite often I buy new frozen stuff, not realising I've already got some.
Time I replaced my fridge, I think. I bought it when I moved here in April 2013 and chose Panasonic, but although it works (and there's never any frost in the freezer), it had a bad rattle for a long time. That seems to have gone away, but for how long?
I have a problem, though, in that the fridge space is only 850mm wide. Nearly all new fridges are 910mm wide, that's in the French door style that I want. There's no prospect of widening the space – not feasible. Therefore my choices are severely restricted. However, LG makes one that would fit, if tightly.
It's 835mm wide x 1787mm high. I have to be able to get my hand in beside the left side, because there are light switches there. Although I love the design of this house, the placement of light switches is just stupid. A couple are way in on the inside wall of a room, so that you have to enter the dark room and reach for the switch. In the main bedroom, there are overhead lights for the bed, but the switch is on the opposite wall. If you want to use the overheads, you have to get out of bed and cross the room to turn them off, then go back to the bed in the dark. Brilliant design. The result is, they never get used. I've actually bought a new wall plate with an infra-red remote control, but because it's made in China, it doesn't fit the existing hole in the wall. Must get onto that.
Anyway, the other reason I dislike my existing Panasonic fridge is that the door opens from the left, meaning against the wall. A French door fridge would allow me to mainly open the left door, so it's easier to get at things.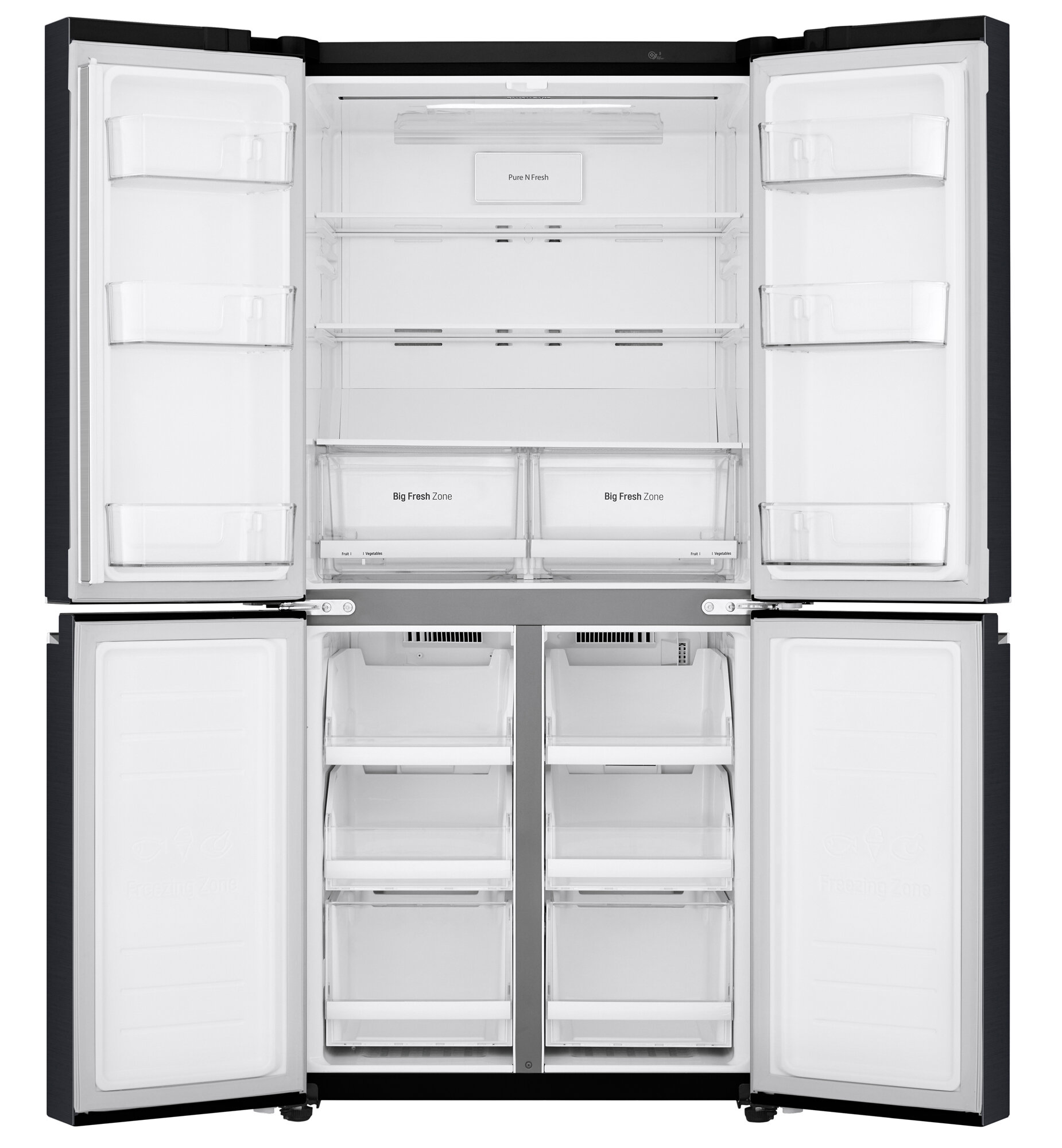 I've always preferred white appliances and didn't want black, but I'm surprised at how good the dark finish looks in the flesh. It's not jet black, it's just a dark grey brushed stainless steel. I like it.
Getting back to freezer storage, although the freezer is at the bottom on this one, it's all slide out drawers so you can pack things properly. RRP $2799. Should be able to get it cheaper. Yes, $1,986 from Appliances Online, including delivery and removal of old fridge. Hmmmm.
I wish I could justify the in-door chilled water and ice dispenser, but you pay another $600 for that and it takes up a lot of internal space in the left door. No, I can make ice in the freezer compartments for $0.