Aaaah, Spring has finally sprung and it's hot! I'm going shirtless (lucky I live alone!) and I've got the fans on. It reached 32C today, not enough for aircon but it's forecast to be 35C on Saturday. Nice.
_______________________________________________
Secret figures reveal Coalition's cut-down NBN tech three times more expensive than forecast
Exclusive: National broadband network ended up costing almost as much as estimated cost of full-fibre plan (The Guardian 25 Nov 2021)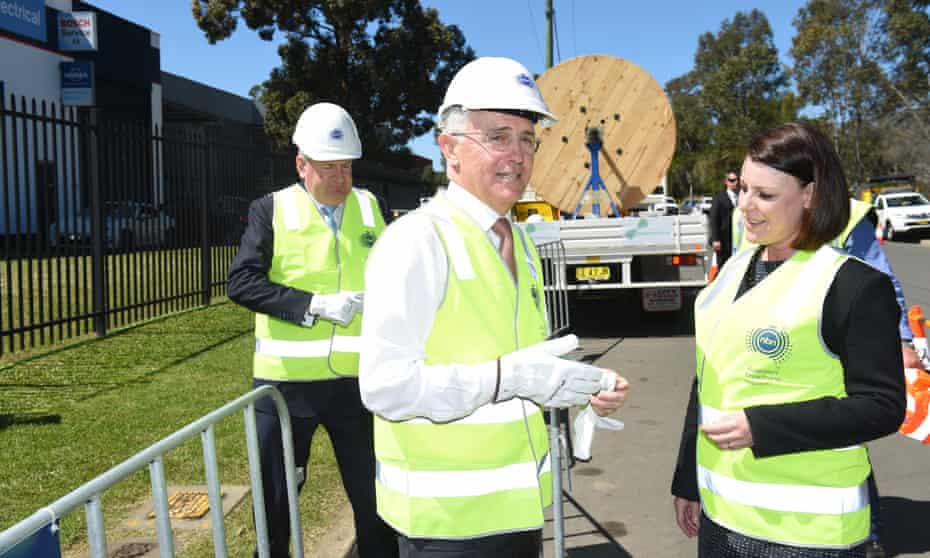 Malcolm Turnbull ordered a review into the NBN in 2013 which led to changes to the Labor plan to roll out fibre-to-the-premises for 93% of homes. Photograph: Mick Tsikas/AAP Josh Taylor@joshgnosis
The technology in the Coalition's cut-down version of the NBN cost up to three times more than originally forecast and was closer to the initial estimated cost of a revised version of Labor's full-fibre plan, according to figures the government has sought to keep secret for almost a decade. (My emphasis)
Yes, Malcolm Turnbull was desperate to find a point of difference from Labor's NBN plan. He labelled it too expensive and too slow to be installed. So he mandated that we were to have the "fibre to the node" (FTTN) instead. The high speed, high capacity fibre would be run to metal boxes in the streets which were already used for copper phone wires and the high speed data would be sent to our houses on our existing copper phone wires. He said this would cost far less than the original fibre to the home (FTTH) plan and be installed more quickly.
There's only one problem: neither came true. As the article above says, the FTTN, Turnbull's plan, ended up costing just as much as FTTH, and it's an inferior service! Australia ranks around 59th in the world broadband speed rankings. I've only got 25Mb/s (mega bits per second) which is OK but nowhere near that of Singapore or South Korea or New Zealand. All these countries went for the best fibre connections and get around 100Mb/s average. Fibre is capable of 1,000Mb/s (1Gb/s) under good conditions.
Instead in Australia we are lumped with corroding copper twisted pairs in ducts that fill with water at times.
What is it about this country? We come up with good ideas, good plans, but someone always steps in and wrecks it. I heard Andrew Forrest say the other day, that "Australia has great ideas, but we try them after we've tried every other bad idea first." I agree. I despair.
The result is that we are having to re-do large parts of the network, and large areas still don't have reliable internet connections, nearly ten years after Turnbull changed Labor's plans.
In the meantime: Malcolm Turnbull, the man who single handedly wrecked Australia's fibre optic cable network!!
______________________________________
I'm pretty unhappy to report that I've been gaining weight, about 3Kg in the past three months. I know why.
The beer companies have come up with a new marketing tactic. They've increased the alcohol content from an average of 4.5-5.0% to 6.0-7.0% in selected labels, new labels. But because this attracts a higher excise duty, they package the cans in four packs, at a price of between $20 – $24. So instead of getting six cans of normal (5%) beer at $20, or $3.33 per can, we suckers who develop a taste for the higher alcohol content are paying $5 to $6 per can.
And because I weigh every day, and put the results into a graph, I can see how my weight started trending upwards a few months ago after I discovered this higher alcohol beer. My fault! I don't have to buy it, but it gets me hooked.
Smart marketing.
__________________________________________________
On 8 August I ordered a digital telecine, a Super 8 film scanner:
The one I paid for looks identical but I only paid US$69.18 (A$98.11) to an advertiser in China. That now looks to be an entity called DAWEI, which is a very common Chinese name. I've managed to find an email address ppyx7@outlook.com which looks pretty anonymous to me.
I never got a receipt or any other email confirmation at the time, and nothing has arrived. I've whacked off a "please explain" email to that address and given them 24hrs before I report them to PayPal, which is how I paid. Wish me luck. This will be my first time testing PayPal's complaint handling service.
The device above is US$299 in the USA. I still want one, but that's too expensive. I only have three large reels of film which I haven't seen since I shot it in the 1970s. But once that's done, I will have no more use for the device. Can't justify spending big money when I can get the film digitised by a place in Perth for probably about the same amount – $400 – $500.
________________________________________
The Prime Minister (Scott Morrison, aka Scummo) is showing his disgusting colours again. This week a Liberal member of federal parliament "crossed the floor" and voted with Labor to bring on debate about a federal anti-corruption commission. Unfortunately it failed due to a technicality.
So now Scummo has called this member, a woman! into his office for a discussion. He had two other senior cabinet members with him. You can imagine what that conversation was like.
And yet, another Liberal, a bloke called George Christensen, made an incendiary speech where he directly compared the Labor state premiers of Queensland, Victoria and WA to Pol Pot, Hitler and Stalin. And he called for "civil disobedience", meaning for people to defy the laws of these states for mandatory vaccinations.
Did he get a talking to? Of course not. He's just regarded as a naughty boy, and boys will be boys in Scummo's world. Morrison is very similar to Donnie Trump in that he thinks people who defy the law and call for state Labor premiers to be hung or decapitated are fine people who are entitled to protest.
PM Scott Morrison once again shows it's one rule for the boys, and another rule for the "girls". He's a misogynist through and through, no matter how much he protests. Disgusting.