Will we ever see similar on the Perth rail system? Why not?
____________________
The killer chairs: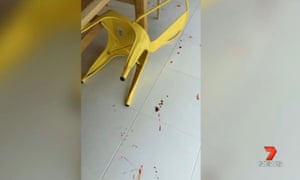 Those are blood stains. These chairs have been responsible for two incidents of toe injuries. They are being recalled. These chairs are what's provided at the pub/restaurant in Wanneroo that we, the NSHS old guys, go to every few months for our 'Wally Lunch'. They are awful! Incredibly uncomfortable. Why were they substituted? I don't know, but I'm going to refuse to use them next time I'm there.
__________________
Saw the doctor today about my leg and it's looking nearly OK. They dressed it again and I see her again next Friday for another check. No more antibiotic needed.
___________________
I was in Target today and I needed help. An assistant was at one end of a long counter and I was at the other. I waved and said I needed help. She wanted me to come to her! She wanted me to wheel my trolley down this counter to her location. I shook my head and said "Can you come up here, please?" Oh…  She did, but what the hell … ?
What a difference in Bali, or Indonesia in general, or any Asian country. Speaking to my Aussie/Bali resident mate, he says when he needs work done up there, he can get willing workmen who will do a good job with no complaints. If the job is done wrongly, they'll pull it up and do it again with no resentment.
Compare that with the surly, "Nah, don't do that stuff, mate" attitude I've written about here recently. Overcharging me in the bargain. Making me feel he's the boss and I'm a fool. Sick of it!
______________